💰 Earn Points with Login:
Earn points and get membership exclusive perks with your account login.
Sign up now and get $5 off for your first purchase. Click to learn more.

🎁  Get Rewards with Your Points 
Turn points into discount code.
Get early access to sales and new products before the rush.

 ● 1-year Warranty & 30-day Guarantee 

Every printer comes with the warranty of 12 months, and we offer 30-day exchange/refund/return guarantee if the printer has unfixable issue.

● Technical Support

Sovol Support Team is available via email and live chat.
Join Sovol User Group to get tips from employees and community.
Note:
The silent board, nozzles, and touch screen will be shipped from China separately.
For orders from the EU, currently, the magnetic plate and the bltouch would be shipped from China.
| | | | |
| --- | --- | --- | --- |
| | | | |
| Printing Technology | Direct Drive Extruder | Direct Drive Extruder | Dual Extruder (2-in-1-out) |
| Build Volumn | 280 x 240 x 300mm | 350 x 350 x 400 mm | 280 x 240 x 300mm |
| Mainboard | Support Silent Board | Preinstalled Silent Board | TMC2208 Silent Board |
| Auto Leveling | Support BL Touch | Preinstalled BL Touch | Support BL Touch |
| Filament Runout Sensor | Yes | Yes | No |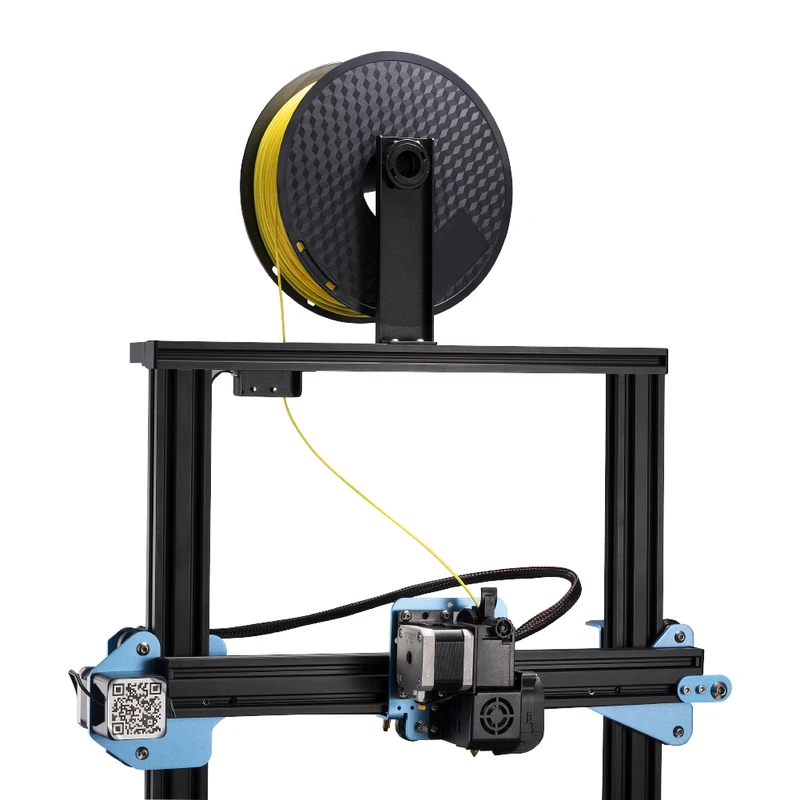 Technical Specifications
● Extrusion Technology: Direct Drive
● Layer Resolution: 0.1mm
● Positioning Accuracy: X/Y 0.012mm Z 0.001mm
● Supported Print Materials: PLA, TPU, HIPS, ABS, PETG, WOOD
● Print Speed: 20~120mm/s(suggested 60mm/s)
● Stock Nozzle Diameter: 0.4 mm
● Build Size: 280 X 240 X 300mm (11" x 9.4" x 11.8")
● Operational Extruder Temperature: Max 260ºC
● Printer Dimensions: 539mm (L) x 493mm (W) x710mm (H)
● Package Dimensions: 620mm x 570mm x 290mm
● Input Formats: .STL, .OBJ, .DAE, .AMF
● Ambient Operating Temperature:8ºC - 40ºC
● Connectivity: SD Card or Data Cable
● Net Weight: 11.86kg
Direct drive extruder leads to faster retraction with more accurate extrusion, allowing you to not only print with more flexible materials but also have better overall extrusion.
Built-in Meanwell power supply ensures stable and sufficient power, heat up the hotbed and nozzle fast. Certified power supply also can protect your printer from unexpected power surges.
Dual Z-axis with two stepper motors drive the vertical axis of the SV01, improving accuracy and precision, resulting in a specified Z-axis accuracy of 0.001mm. add a "pro" level to the printer.
BL Touch is an optional add-on for SV01 which will make adjustments to ensure the bed and nozzle are at an optimum distance throughout the printing, which improves bed adhesion and print quality.
Texture glass plateProviding a superior gripping surface that negates the need for glue or hairspray while also making prints pop off with ease once they have cooled to room temperature.
Thermal run away Protection is a basic safety feature that so many other 3D printers do not have, this ensures SV01 stops sending power to heating elements in the event of an error. This can prevent catastrophic overheating.
Widen X axis ensures SV01 with stable Printing Process. Aluminium Frame. High strength aluminium extursion. Enhanced stability and reliability. Part of the sheet metal with lively color in light blue.
Resume printing function allows you turn off SV01 while printing, and resume your print from last layer anytime later.
With filament runout sensor, no worry for long print that will run out your filaments and cause any problems. No epic print failures anymore with SV01!